Het verband tussen verlangen en controleverlies
Controleverlies als vermogen en vorm van inzicht



This publication consists of two parts which, together, form a whole; Maddy Arkesteyn's book on her latest work and the master thesis she wrote in 2009, with which she completed her studies in 'Philosophy and Ethics' at the Vrije Universiteit of Brussels. Many of the sculptures depicted in the book were produced during a three-month working period in Xiamen, China.
The title of the book, When the second voice does not occupy a stable position, after a quote from the book In the heart of the land by J.M. Coetzee, refers to dislocation and decline. The thesis, The connection between desire and loss of control. Loss of control as capacity and insight, represents Maddy's vision and her way of thinking.
The texts from 2009 about fear, illness, identity and liberation hold an extraordinary significance and timeliness at this moment in August 2012. Maddy died, August 29, 2012 in Brussels.
Text
– Het verband tussen verlangen en controleverlies. Controleverlies als vermogen en vorm van inzicht: Maddy Arkesteyn (140 pages) only in Dutch (lees de inleiding)
– When the second voice does not occupy a stable position: Anna Luyten, Ilse van Rijn (49 pages) in Dutch and English
Design
Hansje van Halem
Printing
Drukkerij Tielen Boxtel
Publisher and producer
Calcite Revolt
Utrechtsestraat 127
1017 VM Amsterdam (nl)
ISBN: 978-90-819680-0-3
Edition 300

© 2012 Maddy Arkesteyn, Calcite Revolt

This book was made with the financial support of an extensive group of crowdfunders, to whom we extend many thanks.

Order
Send an e-mail to: grevemaarten@gmail.com
Intimations of Freedom
This book was made during a residence at the Chinese European Art Center (CEAC) in Xiamen, China, and published on the occasion of the exhibition: Brancusi's Psychosis goes exotic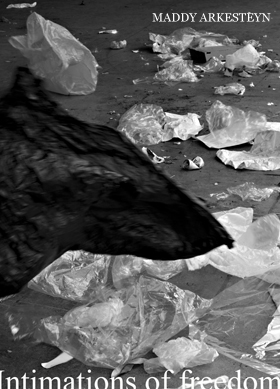 Text: Anna Luyten, Ilse van Rijn
Translation: Alison Mouthaan, Mari Shields
Pages: 80
Edition: 300
2010
ISBN : 978-90-9025805-8
Order
Send an e-mail to: grevemaarten@gmail.com


Eating, bathing, watching TV and making sculptures
A selection of works 1995 – 2006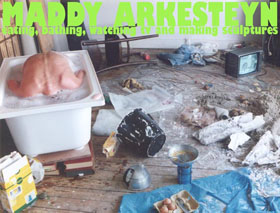 This catalogue is published on the occasion of the exhibition: Maddy Arkesteyn / New photoworks, April/May 2007. Gallery Sabine Wachters, Knokke, Belgium
Text: Marc Van den Bossche
Translation: Alison Mouthaan
Pages: 64
Edition: 200
2007
Order
Send an e-mail to: grevemaarten@gmail.com



12 positions of a blue plastic bag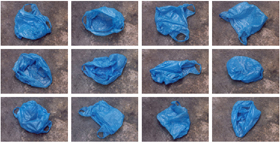 Artist edition
Also available:
– 12 positions of a green plastic bag,
– 12 positions of a white plastic bag
Pages: 12
Edition: 20
2008
Order
Send an e-mail to: grevemaarten@gmail.com



In the space of the uncontrollable moment, the sense of freedom is tangible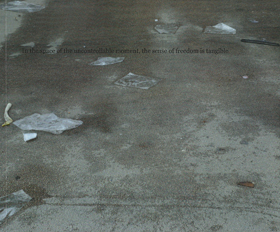 A promise of happiness – photographs
Artist edition
Pages: 145
Edition: 10
2009
Order
Send an e-mail to: grevemaarten@gmail.com